Morning Rounds & Coffee Grounds

On March 20, Ohio ACEP's 2019 annual member meeting kicked off with Morning Rounds & Coffee Grounds, an awesome opportunity for Ohio EM physicians to talk with state legislators over breakfast about some of the most important issues facing emergency physicians and patients. Nearly 50 state legislators and staffers joined us for breakfast in the Statehouse Atrium!
| | |
| --- | --- |
| Rep. Juanita Brent [center left] of Cleveland meets with constituent Dr. Baruch Fertel [center right] and Drs. Brooke Pabst and Daniel Martin | EM physician leaders [front, left to right] Drs. Christina Campana, Purva Grover, and James Augustine discuss important health policy issues with [top, left to right] Sen. Bill Coley and Sen. Stephen Huffman |
Some of the hot topics of discussion included: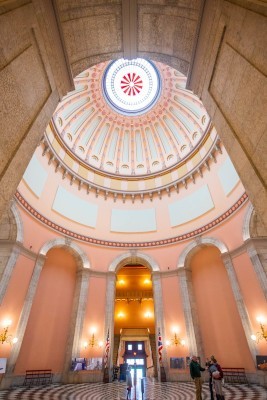 Fair coverage for out-of-network emergency care and the need to take patients out of billing disputes between providers and insurers

Protecting our patients from having to be their own doctor and opposing efforts by health insurers to deny claims for patients who visit the ED for a problem later deemed to have not been an emergency

Opposing counterproductive Medicaid copays which would do nothing to decrease the cost of emergency care and would discourage patients from seeking care when they need it

Working with state officials to tackle the ongoing opioid and heroin addiction crisis

Taking on ED overcrowding and psychiatric boarding, which causes increased wait times, compromises quality of care, and even increases morbidity and mortality for patients
| | |
| --- | --- |
| EM leaders prepare to welcome lawmakers in the Statehouse Atrium | Drs. Ryan Squier [left] and Michael McCrea [right] huddle with fellow Toledoan, Rep. Paula Hicks-Hudson |
| Senate President Larry Obhof [left] discusses important health policy issues with Ohio ACEP President, Dr. Brad Raetzke [right] | Ohio ACEP President-Elect, Dr. Ryan Squier, [right] tells Sen. Steve Wilson [left] about NIX Opiates, a unique youth opioid prevention program which Dr. Squier conceived and developed |
---
Thanks to all the Chapter members who turned out to represent their EM colleagues, and to the dozens of legislators and aides who took the time to hear our members' important perspective on health policy and emergency medicine!
---

For more photos from Morning Rounds & Coffee Grounds, be sure to check out our EM Assembly photo album on Facebook!