Complete Story

01/08/2020
Nominate an EMS Hero for an EMS Star of Life Award!
Nominations due February 21, 2020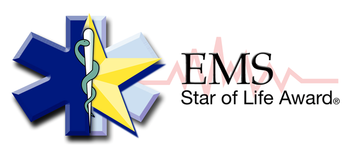 Emergency physicians know how important Ohio's dedicated EMS professionals are to their communities. Every day, EMS providers save lives, give hope and comfort, and selflessly serve their patients—often without the recognition they richly deserve.
That's why we're encouraging our members to nominate a colleague—a deserving EMS Medical Director or EMS Educator—or an EMS squad for an EMS Star of Life Award!
On Wednesday, May 20, 2020, in conjunction with EMS Week 2020, Ohio ACEP will join the Ohio Division of EMS and the State Board of Emergency Medical, Fire, and Transportation Services to host the 20th Annual EMS Star of Life Awards Ceremony to recognize Ohio's outstanding first responders, reunite EMS personnel with the patients they saved, and honor Ohio's EMS heroes.
Award categories include:
EMS Stars
EMS Provider of the Year
EMS Agency of the Year
Frank Giampetro Distinguished EMS Educator
EMS Medical Director of the Year
Jack B. Liberator Lifetime Achievement Award
There are many exceptional EMS Medical Directors, educators, and squads all over the state, and we hope you'll take a few moments to nominate at least one for an EMS Star of Life Award.
For more information, award criteria, and nomination instructions, check out the 2020 EMS Star of Life Awards Nomination Packet. Nominations are due February 21, 2020!
Thanks in advance for helping us recognize the unsung heroes of EMS!
---